Shaun and Captain Vegetable want you to try this recipe.  :)
This is my favourite pie crust/pastry recipe. I use this pie crust recipe for sweet and savoury pies as well as individual chicken pocket pies!
Start this recipe by making the pastry as it needs to chill for a while. The crust can even be made the night before and allowed to chill over night.
This pie crust is made easier by a food processor, if you don't have one it can be done by hand too with the aid of a fork or pastry cutter...(it just kind of takes the whole "easy right out of it though) :)
*FYI -- If you don't want to do all the work of making your own pastry - store bought pastry works fine....or just make the filling and call it chicken stew!  Serve with biscuits or a nice loaf of bread *
In the bowl of a food processor pulse together flour, sugar and salt.

Drop in 1 cup of very cold unsalted butter (must be butter..can't substitute margarine here!) Well, I suppose you could...but it will ruin your day...I swear). The butter should be cut in small cubes.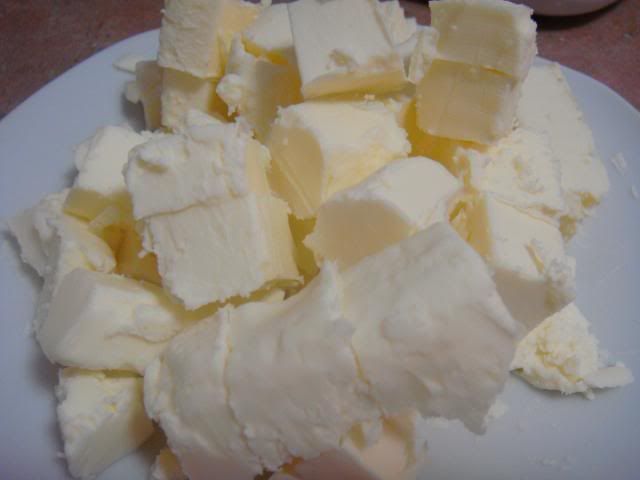 Pulse until a 'coarse meal' forms...whatever that means...small 'bits' I guess.

Now add 1/4 cup of ice water and pulse again until dough holds together.

Dump dough out onto a large piece of parchment paper and arrange into two piles. Press to form two discs of dough. Wrap up in the parchment paper and refrigerate for 2 hours or as long as possible.
Start the filling.
Heat 1 tbsp of olive oil in a skillet over medium heat. Season 2 bone in, skin on chicken breasts with salt, pepper and a pinch of dry sage or poultry seasoning. Place chicken in skillet, skin side down to brown.

Cover (sorta) and cook, turning half way until cooked through (when poked with a fork, juices run clear) about 35 minutes.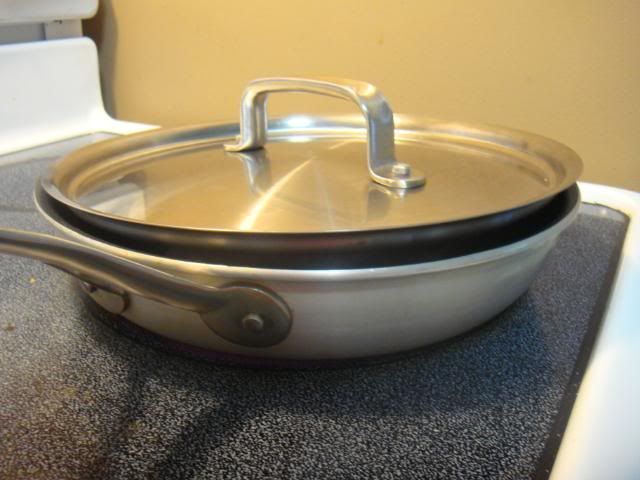 Remove from pan and set aside. Reserve pan juices in skillet.

Chop onion, celery and carrot. I par-boil the carrot in the microwave for 3 minutes to cut down on cooking time.

Add onion and celery to frying pan with pan juices. Add carrot and a handful of frozen peas. I had some leftover canned mushrooms in the fridge so I tossed those in too...feel free to use fresh if you have them. When vegetables are cooked through, about 10 minutes, remove from pan and set asaide in a large bowl.
Now that chicken is cooler to handle remove skin from breasts. Remove meat from the bone and dice. Add to bowl with the veggies.
In same skillet, melt 1/4 cup of butter or margarine, once melted add an equal amount of flour to make a roux.

In a measuring cup, combine 1 1/2 cups chicken stock and 1 1/2 cups of milk. Add to roux gradually, stirring to avoid lumps.

Allow to simmer and thicken over medium heat until it easily coats the back of a spoon. Stir in 1 tsp onion powder and a pinch of seasoning salt.

Pour sauce over veggies and chicken in bowl and stir to combine.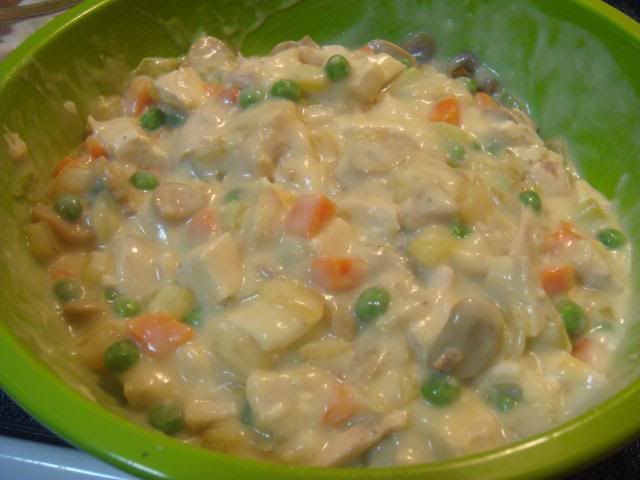 Back to the pastry!!! Remove discs of pastry from the fridge and on a lightly floured surface, roll out. For a 9" pie plate you will need to roll out a piece about 14" wide.
Once pastry is rolled out, drape gently over rolling pin and lift into pie plate. Press down into bottom of plate and trim edges.
Roll out top crust in same manner as bottom. 
Pour filling into pie base and cover with top crust.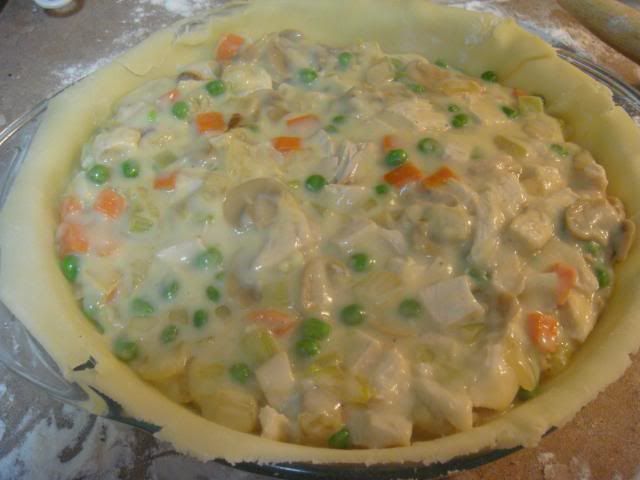 Trim edges and press to seal with a fork. Poke "steam vents" in top of crust.

Brush entire top crust and edges with beaten egg (or egg whites like I used).

Bake at 425 degrees for 35-45 minutes or until crust is golden brown. Allow to cool and set 20 minutes before cutting. Don't be alarmed if filling leaks out upon cutting, this is normal, simply scoop from pie plate with a spoon!