I had a bunch of less than fresh strawberries in the fridge that left a few more days would be able to leave the condo on their own.  Shaun suggested chopping and freezing them...but I knew I could do better than that.  Chopped, the strawberries yeilded about a cup, 1 cup less than I needed so I dug in the fridge and found some frozen pitted cherries and the very berry muffin was born.
Originally a recipe for strawberry lemon muffins from Cooking Light, I ditched the lemon and added the cherries and their juice instead!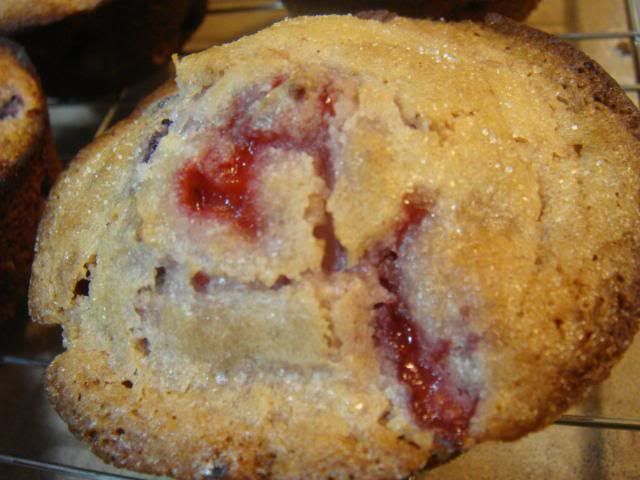 Recipe Yeilds 12
1 1/2 cups all purpose flour
1 1/4 cups sugar
1 tsp baking powder
1/2 tsp salt
2 cups mixed berries
3 tbsp butter, melted
2 eggs, beaten
2 tbsp sugar (topping)
Combine dry ingredients in a bowl.  Beat eggs and combine with melted butter and berries.  Add berry mixture to dry mixture and mix until *just* combined.  Don't over mix.
Divide batter into a greased muffin tin...

and bake at 400 degrees for 20-25 minutes or until muffins spring back when touched lightly in center. Remove from pan immediately.
Visit me on Facebook!