What is this?  The week of cheap meat?  Ha Ha...Shaun doesn't especially love roast anything but once and a while he humours me and lets me roast chicken breasts.  Well this week we did turkey legs.  not only are these really cheap...I'm sorry, economical but Shaun gets to sing the henry the 8th song.....curious?

Turkey legs take a while to roast and it will depend on how large they are so start testing your legs after about an hour of cooking for an internat temperature of 165 degrees (don't touch the bone with your thermometer).
I cooked two turkey legs but cook as many as you need to feed your family.  We are going to make a herb butter to put under the turkey skin while roasting, this will keep the meat moist (not that dark meat needs much help) and it will also flavour the meat.

Heat oven to 350 degrees.  Then, in a small bowl, mix together 2 tbsp butter, 1 tbsp chopped fresh rosemary and 2 cloves minced garlic.  Mix with a spoon until combined.  (This is enough for two legs -- increase as required).

Stick your fingers under the skin of the turkey legs and create a pocket for the butter.  Place half of the butter mixture under the skin of each leg.  Press the skin down over the butter and smooth the butter evenly under the skin -- this also works wonderfully under the skin of a chicken breast before roasting.  Set turkey legs aside.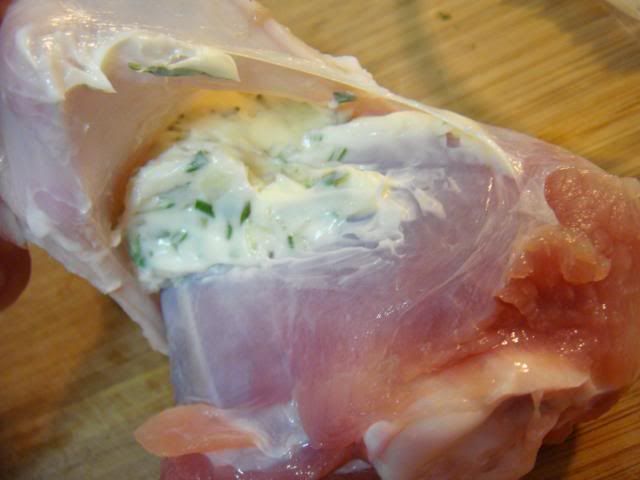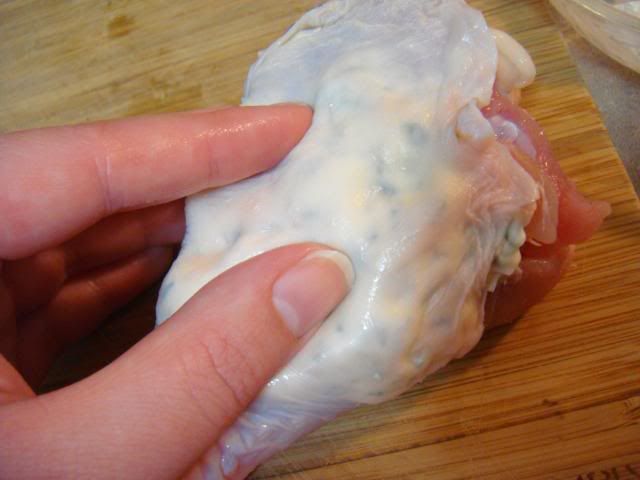 Slice a large white or yellow onion into thick slices and place slices in the bottom of and cast iron pan or roaster - you may need more onion if roasting more legs.  The onion will help add flavour and moisture to the meat and keep it from sticking to the bottom of the pan.  Season turkey liberally with salt, pepper and seasoning salt and place on top of the onions in the pan.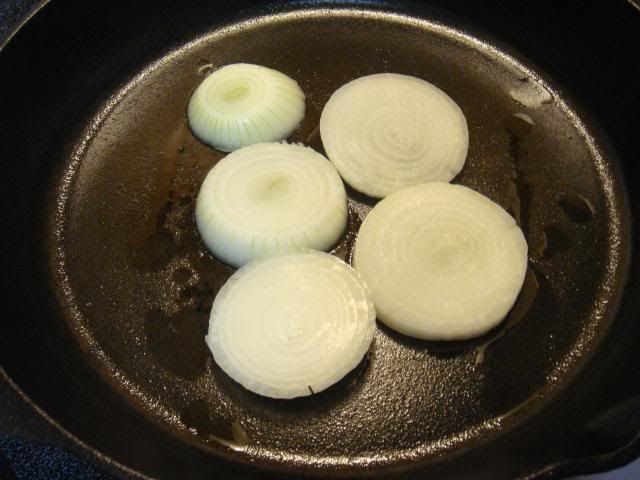 Chop potatoes, season and surround turkey in the roasting pan.  I seasoned mine with salt, pepper, lemon and a drizzle of olive oil.  Pour enough chicken broth (or water) into pan to just come up to the tops of the onions.

Roast at 350 degrees for 60-90 minutes or until internal temperature reaches 165 degrees.
Broccoli and Bacon Salad
Split a large head of broccoli into florets and add to a pot of simmering water -- allow to simmer for one minute then remove from heat and place under cold running water.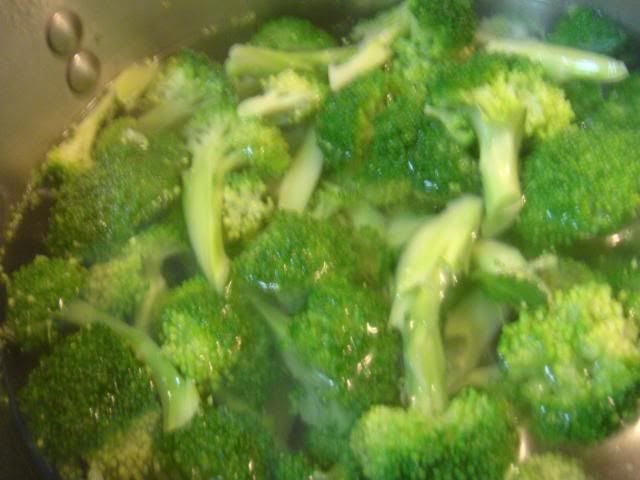 For the dressing add 2 slices chopped bacon to a pan over medium heat.  Cook bacon until crisp then remove from pan. 

Drain all but 1 tbsp of drippings from the pan and add 2 tbsp red wine vinegar.  Scrape bottom of pan to loosen browned bits.

Pour drippings into a small bowl and add 2 tbsp mayonnaise, 1 tbsp grainy dijon mustard, 1/2 tsp sugar and salt and pepper to taste.  Stir together until smooth.
In a large bowl, combine broccoli, bacon and a small handfull of slivered almonds or sliced hazelnuts.  Toss with dressing.

Chill and serve!
Visit me on Facebook!